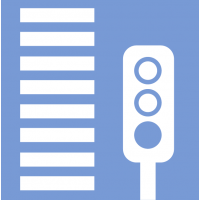 Why RSE is so important? How proper teaching aids can assist teachers and educators in RSE?
Road Safety Education (RSE) is a crucial aspect of a child's education that should not be neglected. With road accidents being a leading cause of death and injury among children, it is vital that children are equipped with the knowledge and skills necessary to navigate the roads safely.
Educating children about road safety helps to instill good habits and positive attitudes towards road use from an early age. By teaching children about road signs, traffic rules, and safe behavior on the roads, we can ensure that they are well-prepared to deal with the challenges they will face as they grow older. This includes not only knowing how to cross the road safely as pedestrians, but also how to ride a bike or be a responsible passenger in a car.
In addition, RSE is an important tool for promoting health and physical activity. By encouraging children to walk, cycle or scoot to school, we can help to promote active lifestyles and reduce congestion and pollution around schools. It also helps to develop a sense of independence and self-confidence in children as they learn how to navigate the roads safely.
RSE is not only important for children, but for the wider community as well. By teaching children about road safety, we can create a culture of safe and responsible road use that extends beyond the classroom and into the wider community. This can help to reduce the number of accidents and injuries on the roads and make our communities safer places to live.
Road Safety Education (RSE) is a vital component of any child's education, and it is crucial to teach them about the dangers and risks associated with road use from a young age. The importance of RSE lies in the fact that it helps children to develop the skills and knowledge required to be safe road users, both as pedestrians and as future drivers or cyclists.
With an increasing number of cars on the road, it is essential that children are aware of the risks associated with road use and learn to be cautious and aware of their surroundings. RSE helps children to understand the dangers of distracted walking or cycling, and the importance of following road rules and traffic signals.
Moreover, the consequences of road accidents can be severe and can have lifelong impacts on children and their families. Therefore, RSE can play a critical role in reducing the number of road accidents, injuries, and fatalities.
Furthermore, RSE not only helps children to stay safe on the roads but also encourages them to adopt healthy and sustainable habits, such as walking, cycling, or using public transport. This can lead to a reduction in air pollution and traffic congestion, promoting a cleaner and greener environment.
Educating children to be responsible road users from by promoting safe and sustainable habits, we can create a better future for them and our communities.
To make RSE easier for teachers and educators and more interesting for children and pupils, you can use proper teaching aids, like floor mats and educational kits like "Pedestrian Crossing with Traffic Light Simulator for Teaching Road Safety (RSE)" or "The motoring regulations – 130 magnetic elements: road signs, roadways, intersections, road users". It fulfills the curriculum which requires that young students safely participate in road traffic as pedestrians, passengers, and cyclists, and that they correctly interpret road signs concerning pedestrians and cyclists. The teaching aids and sets are also useful for driver training centers and other educational projects related to road safety.